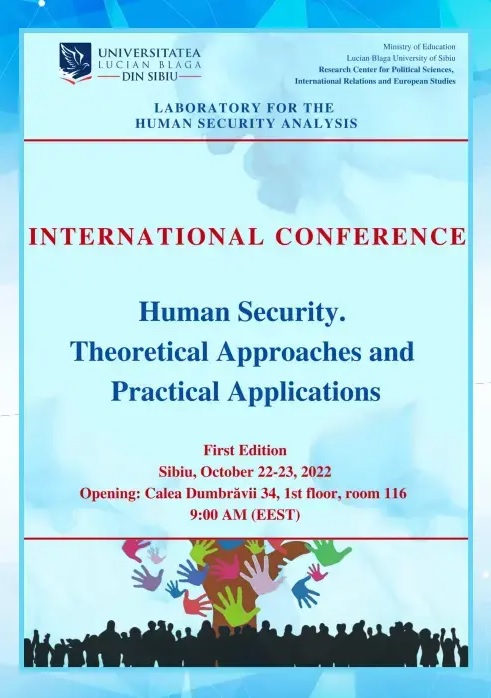 Organizer: Research Center for Political Sciences, International Relations and European Studies – Laboratory for the Human Security Analysis
Period: October 22-23, 2022
Format: hybrid, online or in-person presence
Place: Lucian Blaga University of Sibiu, Department of International Relations, Political Science and Security Studies, Calea Dumbrăvii, no. 34, 550324 Sibiu
No fee is required.
PANELS:
Civil Rights and Freedoms (coordinator/moderator: Dragoș Dragoman, contact: dragos.dragoman@ulbsibiu.ro)
Immigrants and Refugees in Eastern Europe (coordinators/moderators: Iuliana Neagoș, contact: iuliana.neagos@ulbsibiu.ro; Andreea Dragomir, contact: andreea.dragomir@ulbsibiu.ro)
The Human Security within the Transnistrian Issue (coordinators/moderators: Marius Șpechea, contact: marius.spechea@ulbsibiu.ro; Mihai Melintei, contact: mihai.melintei@ulbsibiu.ro)
WORKSHOP – Recent Minorities in Sibiu: Similar Problems, Similar Solutions (coordinator/moderator: Nicoleta Annemarie Munteanu, contact: nicoleta.munteanu@ulbsibiu.ro)
Partners:
Arab Cultural Center in Sibiu – https://centrulculturalarab.com/
Bessarabian Youth Organization in Sibiu – https://www.facebook.com/OTBSibiu/
Sibiu Ukrainian Center – https://www.facebook.com/uasibiu/
Chinese Community in Sibiu

DEADLINES:
Submission of proposal for registration within the panels: 30th of July, 2022
We expect an e-mail message containing the Registration Form (please download it) at: centru.ccsprise@ulbsibiu.ro: First name, Last name, institutional affiliation (university, national academy, research institute, private research organizations), title of the paper, the panel you endow the registration, a summary of 250-300 words in English or Romanian.
Confirmation of registration: 10th of August, 2022, by email from the Chair of the Scientific Committee
Submission of workpapers: 10th of September, 2022, by email: centru.ccsprise@ulbsibiu.ro
Confirmation of the registrations of the papers within the conference program: 20th of September 2022, by email from the Chair of the Scientific Committee.
STYLE GUIDELINES
The papers will be published in a special issue of "Studia Securitatis" Journal (ERIH+, CEEOL, EBSCO, INDEXCOPERNICUS, ULRICH`S PERIODICAL DIRECTORY, INFOBASE INDEX SOCIONET, RESEARCHBIB, MIAR, EUROPEAN XFEL PUBLICATIONDATABASE, GLOBAL IMPACT&QUALITY FACTOR), December 2022.
The style guidelines and the peer review procedure are those on the journal`s `website: https://magazines.ulbsibiu.ro/studiasecuritatis/.